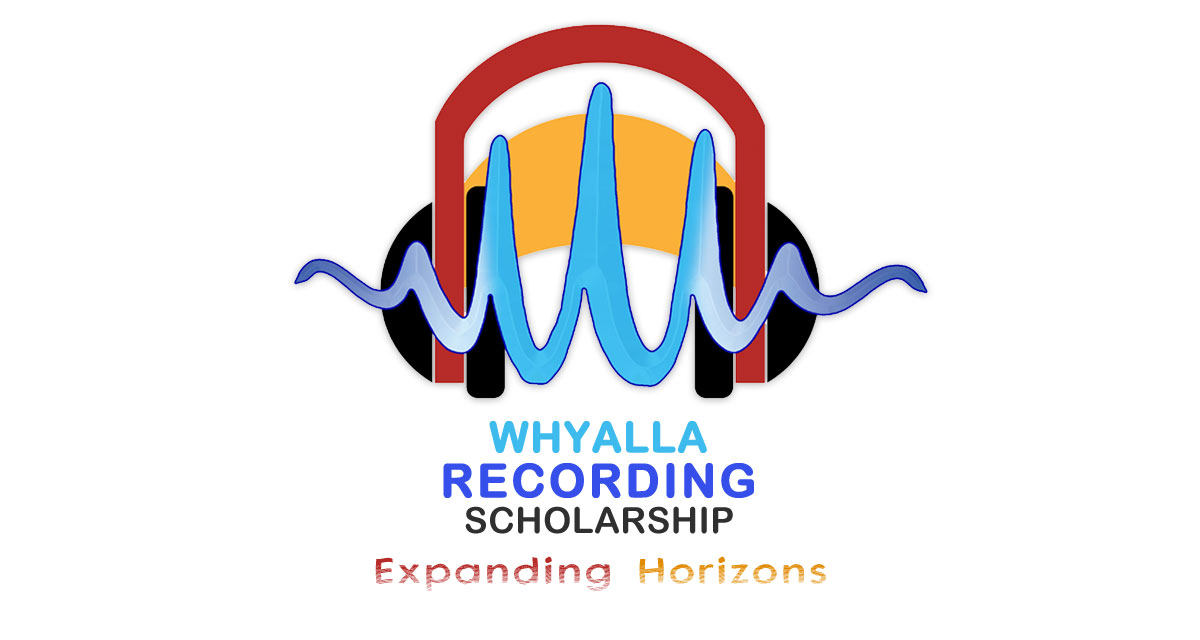 The inaugural 2017 Whyalla Recording Scholarship (WRS) was launched in August 2016
by Whyalla's one-stop music shop Stormfront Productions -
a Brand SA Hall Of Fame Inductee for services to Regional music & arts.
WRS provides the opportunity & resources for a young Regionally-based ORIGINAL musician aged 12 to 21
to audition for, then win a professional recording studio package valued at over $10,000.
The prize includes studio costs & resources to record your ORIGINAL Winners Single
plus 12 months exclusively working with Stormfront Recording to then
launch & market your professionally mastered Single & accompanying Official Music Video
in order to establish a professional profile as a Recording Artist.
Each year WRS invites & receives financial and in-kind sponsorship to support its work:
EMAIL WRS NOW TO OFFER YOUR SUPPORT!
In 2017 our inaugural Winner was Whyalla's 17 year old BREEZE Millard
who completed her Scholarship in January 2018.

BREEZE and her Winner's Single
"I Have My Own Life" sold strongly on iTunes,
charted at Number 8 on the AMRAP Australian Radio Airplay Chart
& generated over 100 online, print & broadcast media interviews & Features!
CHECK OUT
BREEZE's journey NOW!
In 2018 WRS expanded its capture net to our Region!
Since then WRS has produced and sponsored FIVE more amazing singles
and 4 Music Videos:

CHECK OUT JAYLEE DANIELS "TONIGHT"
CHECK OUT SHAKIRA LEA "I MISS YOU"

CHECK OUT LIBERTY TUOHY "TIME STAYS THE SAME"

CHECK OUT JAYLEE DANIELS "PAPA'S SONG"

CHECK OUT SHAKIRA LEA "DROWNING"

Any Entrant resident (as-of 29/6/18) in any
of these Local Government Areas CAN ENTER:
District Council Of Tumby Bay
District Council Of Cleve
District Council Of Kimba
District Council Of Franklin Harbour
City Of Whyalla
City Of Port Augusta
Flinders Ranges Council
District Council Of Orroroo Carrieton
District Council Of Mount Remarkable

CHECK OUT our ENTRY AREAS MAP
for more information!

1/ All Entrants return an ENTRY FORM plus provide
a recording and/or live video of themselves performing their
nominated Original song to be considered for Live Audition.
ENTRY into WRS is FREE!
Your audio/video recording DOESN'T necessarily need to be premium quality -
but it DOES need to showcase YOU, your musical TALENT and your ORIGINAL SONG!
Ways you could record your audio/visual recording may include
your mobile phone or device, a video camera, webcam, YouTube links,
or other existing online examples of your music.
Each Entrant can choose to submit their audio/video recording by:
* WeTransfer.com (to "info@whyallarecording.com") or...
* Email your audio/video file(s) to info@whyallarecording.com -
you can also email us links to where we can see and/or hear your music online or...
* Post on CD, DVD or USB to...
WRS
PO Box 2313
Whyalla Norrie
5608 SA
2/ Initial Entries will be judged & Successful Entrants will be scheduled a
PRIVATE AUDITION in Whyalla, SA where they'll be interviewed by our
Judges, perform their song live and subsequently
be judged by Video Judges outside Whyalla.
3/ A Winner will be selected, notified & contracted -
all unsuccessful Auditioners will be notified &
given professional feedback on their Audition.
4/ The Winner will have 6 months to complete their Recording Prize with Stormfront.
5/ WRS then launches the Winner, their song and Music Video to the world!

The aim of WRS is to unearth the very best young & Original music talent in our Region,
and to expose them to International Standards of professional audio visual production
in order to expand their horizons and inspire them to take on the WORLD!
Real talent just needs a push to get started!
WRS guides an outstanding Original Regional music talent in the right direction and
provides them a Pro calling card so that "the rest will be history!"